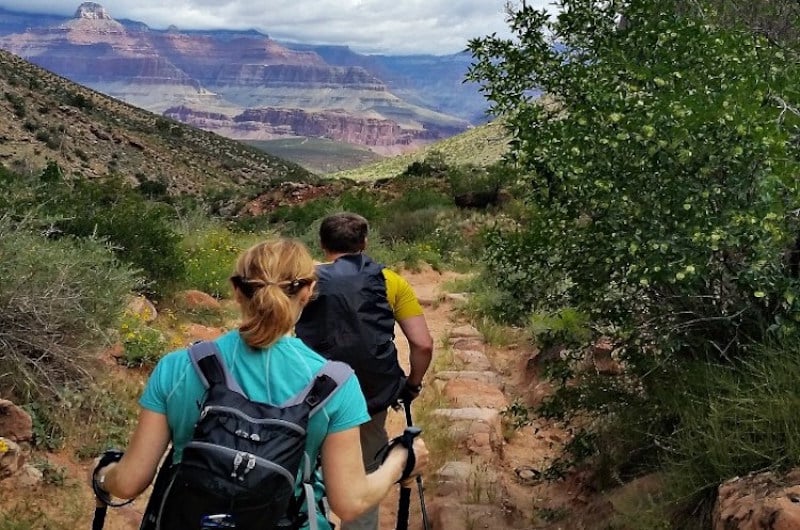 When choosing the perfect Grand Canyon hike, it really depends on what you want out of your day. Some trails are more crowded but offer better, more accessible views. Other trails provide much more solitude, however, it can take longer to access the panoramic Grand Canyon vistas, and these trails are often less maintained than the more popular options. When taking a guided Grand Canyon hiking tour with Grand Canyon Adventures, your guide will discuss the options with you on the morning of your hike and help you find the perfect trail.
Great 'Starter' Trails
Once you make the decision to take a step into the Canyon, you are joining a relatively small group of visitors who do so. Although there are no easy trails into the Grand Canyon, some are much better for beginners than others. Grand Canyon Adventures hiking guides love the Bright Angel Trail, and the South Kaibab trail as good starter hikes. Both of these trails are extremely well maintained, and offer outstanding views into the Canyon.
Bright Angel Trail 
Trailhead: Located near historic Kolb Studio
Overall Difficulty: 5/10
Distance to Indian Garden: 4.9M
Total Distance (to river): 8.0
Elevation Change: 4380 ft (1340m)
Notes: Water available on upper trail during summer; year-round at Indian Gardens, CO River.
The Bright Angel is one of only two full maintained trails in the Canyon. Because of this, it is one of the safer, and more "mellow" trails offering a wide, generally smooth path. One of the big reasons Grand Canyon Adventures guides love it is because during the hottest months, there is cold spring water available at various locations on the trail. From the trailhead, your guided Grand Canyon Hiking Tour can take you to various places in the Canyon including the 1.5 or 3 mile rest house, Indian Gardens, or even Plateau Point. Bright Angel Trail is also a neat option simply because of the history of the trail; being one of the first used regularly in the Canyon.
South Kaibab Trail
Quick Facts:
Trailhead: Located near Yaki Point
Overall Difficulty: 5/10
Distance to Cedar Ridge: 1.5m
Distance to River: 6.7m
Elevation Change: 4780ft (1460m)
The South Kaibab is by far our favorite trail, and the best "bang for your buck" as far as views to distance goes. Because of this, the South Kaibab Trail can often times have more people as well as mules on it. From the trailhead, it's only about 1 mile to Plateau Point, one of the most spectacular views at the South Rim. From there, we generally continue another 0.6 miles to Cedar Ridge, a great place to rest and have lunch (Cedar Ridge also has restrooms available year round.) From Cedar Ridge still leaves you wanting more, we can even continue down another 1.5 miles to Skeleton Point. Skeleton Point offers amazing views of the Colorado River, as well as views up the Bright Angel and Plateau Point to the West. The South Kaibab Trail has no water sources.
Advanced Grand Canyon Trails
Our two favorite "less traveled" trails in the Canyon have to be the Tanner and the Hermit Trails. As far as the South Rim is concerned, these two are as far apart as you can get (distance wise), but both offer spectacular beauty, and outstanding solitude.
Hermit Trail
Quick Facts:
Trailhead: Located at the end of Hermit's Rest Road
Difficulty: 7/10
Distance to Santa Maria Springs: 2 Miles
Trail Type: Rough, rocky
The Hermit Trail is definitely one of our favorites if solitude is what you are looking for. The Hermit trail is located at the very end of Hermit's Rest Road, which is normally only accessible by shuttle bus during the peak season.  Grand Canyon Adventures guides have direct trailhead access, so you can skip the shuttle system with us. This trail was built in the late 1900's by horse thieves, and was improved a bit by prospectors, so it has some really neat and rich history to it. It is not one of  the regularly maintained trails at the South rim, so the Hermit can be a bit more challenging than others. Within just a couple of miles from the trailhead, you can make your way to the little oasis of Santa Maria Springs, and find some fossilized reptile tracks dug into the beautiful Coconino Sandstone along the way. Again, if solitude and something a little more off the beaten path is what you're looking for, the Hermit is a great option.
Tanner Trail
Quick Facts:
Trailhead: Located below Lipan Point
Difficulty: 6/10
Distance to 75 Mile Saddle: 1.9 Miles
Trail Type: Steep start, smooth trail
Ah the Tanner Trail – definitely one of our favorites. The Tanner is another trail that is used mostly by backpackers heading to the Colorado River, and can be a bit deceiving to start. The first section of this trail is STEEP. A series of switchback lead you steeply down a canyon wall, much of which is under cover of thick Ponderosa Pine. Because of this, it tends to scare a lot of people off from the trail. Don't give up, it gets better; much, much better. Once you make it down the series of steep switchbacks, the trail flattens out a bit, and you can make your way to 75 Mile Saddle, which is quite literally a breathtaking view and seldom seen. This trail also became widely used by horse thieves and prospectors, and it is thought to be the place where the first Europeans laid eyes on the Grand Canyon.