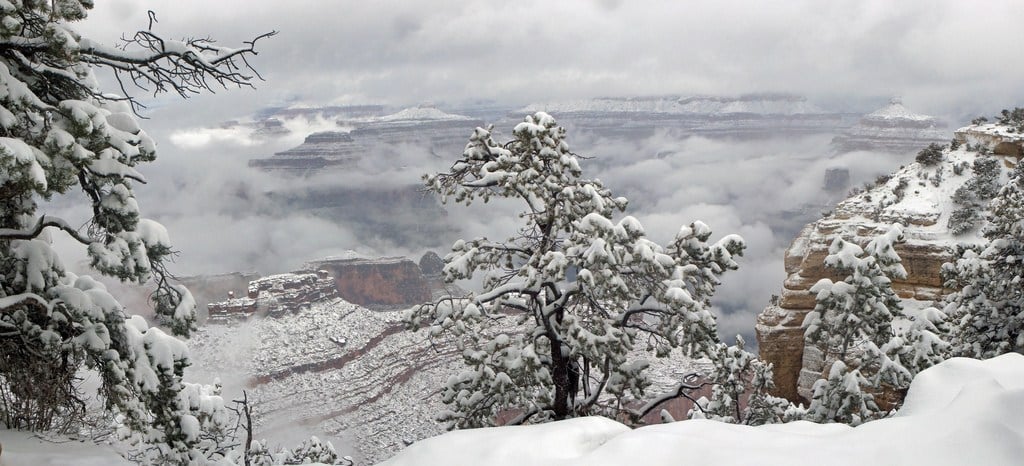 Winter time is a great time to visit Grand Canyon and Antelope Canyon & Horseshoe Bend. Winter gives travelers a unique view of the desert in snow. It paints the perfect blank canvas for the unique wildlife to be spotted and admired from just about anywhere.
The perfect Christmas & New Years selfies can be taken here. Keep in mind the cold, the ice, the chilly wind and the shorter days when you are planning a trip to Northern Arizona in the winter. Let us try to help you get a better understanding of Northern Arizona's bipolar weather.
First thing's first, do your research of what the weather is typically like during the time you wish to go to these places, that way you have a clearer idea of what type of clothes to bring. Here are the essentials:
Gloves, beanies, scarves, warm socks and shoes
There at the Grand Canyon the weather in December averages with a high of 44 and low of 15 degrees. In January, it is a high of 45 and low of 16 degrees, then in February it starts to creep up, with a high of 48 and a low of 18 degrees.
Another thing to keep in mind the Grand Canyon, the main pathways are paved and tend to get covered in several inches of snow and even sometimes ice during the winter. So it is always good to bring some good sturdy shoes with traction, if you have any, if not then just be very diligent and careful where you step so that you don't fall. It might also help to bring your own trekking poles. Don't have any? No worries, just call our office or tell us the morning of your tour and we will be sure to pack some for you.
Antelope Canyon & Horseshoe Bend are another one of our most popular tours, and for good reason too. The expected temperatures in December average with a high of 45 and low of 30 degrees. In January, it is a high of 45 and low of 29 degrees, then in February it starts to creep up, with a high of 52 and a low of 33 degrees.
Fortunately, the terrain is different than that of the Grand Canyon. There at the Horseshoe Bend overlook, you have sandy ground that hardly gets icy and because of its constant activity stays this way. When you get to the Antelope Canyon and hike your way down you're mainly facing sandy Navajo sandstone surfaces that when, if you're not careful with your steps you can slip and fall. It may not be ice but it can be just as dangerous.
Both places are truly gems that are a must see to everyone who are interested in their next adventure for the winter time. One ices over more than the other but both experience the frigid cold weather that can wake anyone's soul with wonder, and both are absolutely stunning when covered in a blanket or just a dust of snow. Join us on our next winter wonderland adventure, just be sure to dress accordingly.