Everything You Need To Know About Havasupai Reservations 2023/2024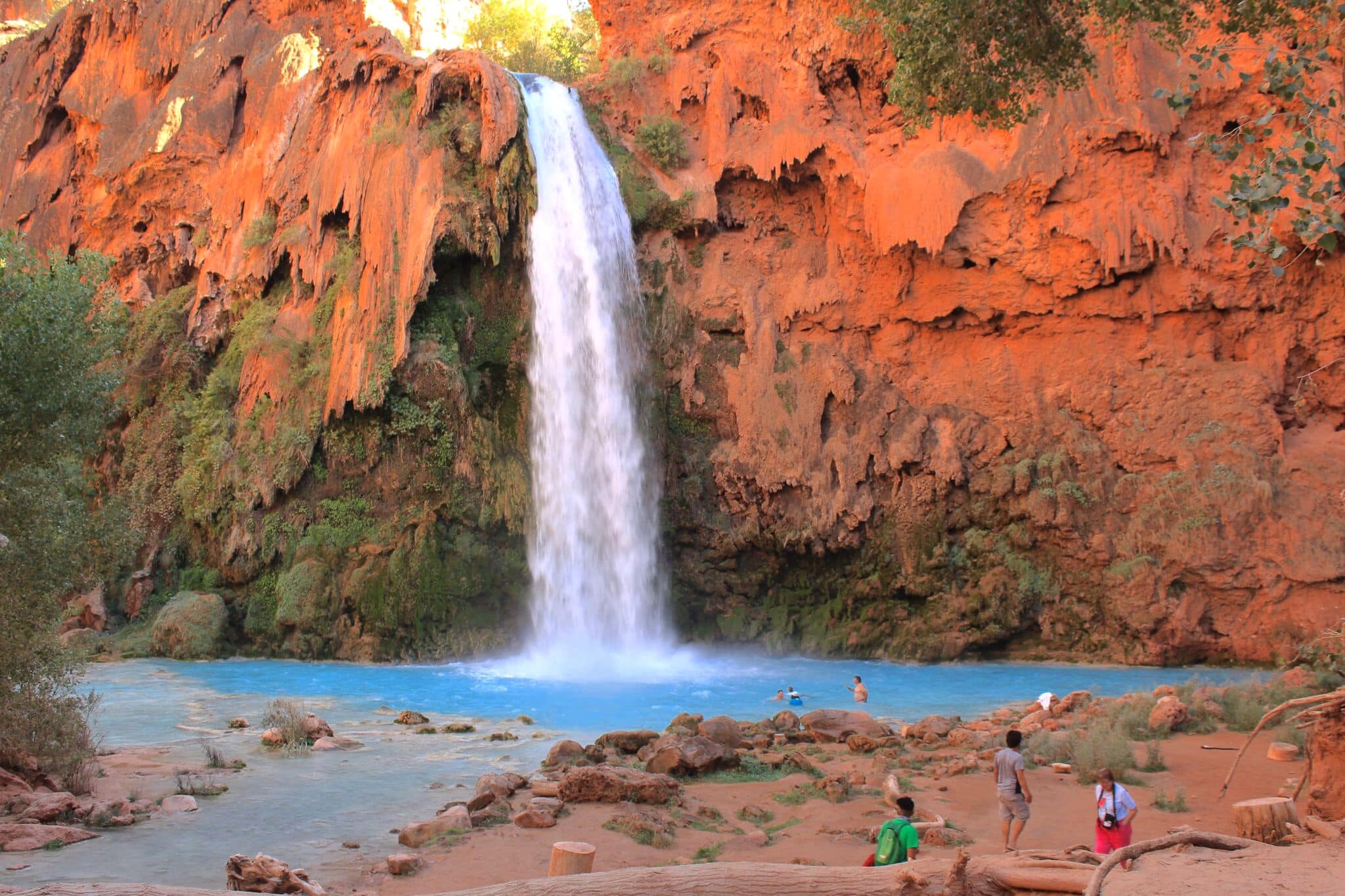 It's no secret that the Havasupai tribal lands in Arizona have some of the most beautiful waterfalls and are now one of the top bucket-list destinations in the world. With the backdrop of the rich red, rocky cliffs and desert terrain, the turquoise waters create some of the most stunning photo ops as they cut through the bottom of the Grand Canyon. Although, with its beauty on one hand, on the other, it is not only the trek getting to the falls that can be difficult but securing permits as well.
As interest of adventure-goers has spiked over the years, the Havasupai tribe had to put a limit on the number of people allowed to hike and camp at the falls in order to protect the land. In 2018, the number was set to 350 people per night at the campgrounds. Additionally, day hiking was strictly not allowed. Hikers going to the falls needed a camping permit for the night or they would be turned right around to hike the ten miles back up. Yes, that is 10 miles one way getting to the falls, but we'll get into that later.
Getting a permit to go to Havasupai can be a daunting and frustrating task. Permits typically open on February 1st for the year, and the whole world has the chance to battle it out for a spot. For 2023, all permits have already been filled due to the backlog created during the pandemic. Not to worry, however, you can find plenty of cancellation permits on havasupaireservations.com. Cancellations are updated daily, and from what we've seen, they are usually plentiful if you have a flexible schedule.
What is Havasupai and How Do You Get There?
Havasupai is a tribe in Arizona. Their community, the Supai village, is nestled far down in the Grand Canyon and is only accessible by horse, helicopter, or your own two feet.
Although typically referred to and recognized for the main waterfall, Havasu Falls, the tribal land also has three other notable waterfalls: Navajo Falls, Mooney Falls, and Beaver Falls.
To get to the remote trailhead (Havasupai Hilltop), you will need good directions to Havasupai Trailhead from the historic Route 66.
The trail is a 10-mile in and 10-mile out hike or an 8-minute (one-way) helicopter ride. It is 8 miles from the trailhead to the tribal office, where you will pick up your permits, and then another 2 miles down to the falls and the start of the campgrounds, which is close by Havasu Falls.
Navajo Falls is just past the Supai Village to the left, Mooney Falls is about another half-mile hike from the campgrounds, and Beaver Falls is around 3.5 miles one way.
No day hiking is allowed. Every hiker needs to have a campground permit.
The campgrounds are open February 1–November 30.
How to Book Havasupai Campground Permits
Mark your calendars for February 1!
All reservations for Havasupai campground permits open February 1 at 8:00 AM, Arizona Time.
For obtaining reservations through the online system, visit Havasupai Reservations.
For obtaining reservations via phone, call the reservation line at (928) 448-2121 or (928) 448-2141 between the office hours of 9:00 AM–3:00 PM. You can also try calling the lodge at (928) 448-2111 or (928) 448-2101 for permits.
Have your desired dates and several backup dates ready to go.
Note: When trying to get through to the phone reservation line, it is most likely that you will receive the busy signal, and it might take you a day or two of non-stop calling to get through to someone.
Instead of camping, you can also opt to stay at the Havasuapai Lodge.
How Much Do Havasupai Permits Cost for 2023?
While the exact cost can change from year to year, we estimate the Havasupai permit cost to be around $395 to $500 per person. Typically, a minimum stay of 3 nights and 4 days is required.
WEEKENDS WILL BE AN ADDITIONAL CHARGE
All weekend nights (Friday, Saturday, Sunday)
Holiday weekday nights (February 21, May 30, July 4, September 5, October 10)
Spring Break weekday nights (March 7–10 and 21–24) 
Reservations are 100% non-refundable and non-transferrable.
It is recommended if you are planning on hiking in and out (instead of taking the helicopter) to spend at least two nights to allow for adequate rest and enough time to see Beaver Falls.
What happens if I do not land a permit?
If you end up not being able to get a permit and they are sold out for the year, it is recommended to continue checking back for cancellations. Or, if you landed a reservation with a not-so-ideal date, you can also call on occasion to see if there have been any cancellations. Tip: Try getting a permit for dates later in the year, October/November, to work around the high season.
Other Frequently Asked Questions
WHEN IS THE BEST TIME TO GO TO HAVASUPAI? 
Peak season is May–September, which are also the hottest months, so it is important to start your hiking early before the sun is out. A lot of the trail is exposed, so hiking around the sun will be the best to avoid the dangers of the Arizona heat. July and August is monsoon season and the forecast for thunderstorms should not be taken with a grain of salt. Spring (March-May) and Fall (September-November) are excellent times to visit Havasupai. Although the waters are a little on the cooler side, the weather is great for hiking and enjoying comfortable nights at the campgrounds. Havasupai Falls are closed during the winter months.
ARE THERE DESIGNATED CAMPSITES AND FACILITIES?
The campgrounds at Havasupai are "camp wherever you can/want." There are several outhouse-style toilets spread throughout the campgrounds as well as drinking water. Be aware of your surroundings in warmer temperatures, as there are scorpions around the campgrounds at night. No campfires are allowed. There are also some local food and drink vendors stands at various times of the day right by the campgrounds.
DO I HAVE TO CARRY MY OWN GEAR IF I AM HIKING?
The tribe does offer services for a fee to take your gear by mule or helicopter.
For pack horse reservations going into Supai/campgrounds, they must be made at least 1 week prior to arrival, and reservations going out must be made 1 day prior to arrival. It is $132 one way (minimum) with a maximum of 4 bags at 130 lbs total. Further information can be found on the Official Havasuapai Tribe Website.
For sending your pack via helicopter, the fee is $50 for up to 40 lbs and is on a first come, first served basis. The helicopters start at 10:00 AM.
How Do I Take the Helicopter in to Supai?
Planning to take the helicopter in or out of the village can be a risk. The helicopter works on a first come, first served basis and tribal members have priority. So even if you are in line at the crack of dawn, and a group of the tribe shows up when the rides start, you are not guaranteed to get on a flight. Helicopters also do not run every day of the week and are known to have occasional maintenance issues, which can delay the flights. Of course, weather conditions are always a possible factor.
Helicopter rides do not start until 10:00 AM. If you wait in line for the helicopter and end up not being able to get on, you lost all that time for the hike and might be forced to hike out in the hottest times of the day or miss out on a whole day at the falls. It is $85/per person one way. Please note that the helicopter lands in the village—it does not take you all the way to the falls, which start two miles down from the village.
More information can be found on the Official Havasupai Tribe Website.
With the advancement of social media, photography, and word of mouth, Havasupai, being one of the iconic sites in the Southwest United States will continue to grow as one of the most sought after places to visit for people all around the world. Even with the difficulty and frustrating process of obtaining a permit, it is not impossible. So mark you calendars for February 1st and be ready to go online at 8:00 AM Arizona time or call in.
---
You Might Also Be Interested In: