Horseshoe Bend is arguably one of the most photogenic places you can visit! This viewpoint puts you on top of a 1,000-foot cliff overlooking the mighty Colorado River. Its notoriety has made Page, Arizona a popular stop for tens of thousands of people every year. Whether you are planning to stop on your own or take a Horseshoe Bend tour with us, here's everything you need to know to avoid the crowds, the heat, and ensure you have a good time when visiting Horseshoe Bend.
History & Geology of Horseshoe Bend
To find the origin of Horseshoe Bend, you're going to need to travel back about 200 million years. You would find yourself in a monstrous sea of sand spanning all the way to Wyoming. After a brief 100+ million years or so, the dunes solidified into the magnificent sandstone we see today. The sheer sandstone walls are the main attraction at Horseshoe Bend! This sandstone canyon that characterizes the geology of Horseshoe Bend can be dated back to about six million years. This is when the Colorado River started to carve out this long, winding canyon. The unique horseshoe shape of the canyon can be attributed to water erosion. The gist of it is that water takes the path of least resistance, and the sandstone that once stood in the way of the river was easier to erode than the sandstone that is still present today.
How to Get to Horseshoe Bend
Horseshoe Bend isn't hard to find but is located pretty far from any major airport or city. It is just outside the town of Page off of Highway 89. It has a large parking lot where you pay entry fees, and it is marked fairly well. It is about two hours north of Flagstaff, Arizona (the closest city to the viewpoint), which is a good central location for those looking to make the most of their time in Northern Arizona. Flagstaff is where we leave for our tour of Antelope Canyon to Horseshoe Bend, though we can also meet you in Page if you plan on staying there!
Once you have paid your fees and parked your vehicle, it is now time to walk through the desert landscape along the Horseshoe Bend Trail. This is an easy ¾ mile walk along a grated dirt path. There is only one path, so it's perfect for those who are directionally challenged. At just about 1.5 leisurely miles round trip, this is a must-do activity when in Northern Arizona.
What to Know Before You Go
The Hike
Hiking Horseshoe Bend is not considered difficult, but the desert sun has been known to prevent hikers from reaching their destination. On the hottest days of the year it can reach 105℉. There are three shade structures with benches throughout the ¾-mile path, but there is NO water. We generally recommend sun hats, sunglasses, sunscreen, and LOTS of water for those joining us on our tours! As a guide myself, I will often pack spare water bottles for each guest just in case. Horseshoe Bend is open year round, and the winter and fall seasons are great times to visit to avoid that heat!
The Edge
When you arrive at the viewpoint, you'll notice a small section of concrete with some steel railings. This covers about 5% of the viewpoint. The other 95% has no barriers and no concrete floor. This means you'll most definitely see people standing closer to the edge than they should be. The sandstone/sand combination can be slippery at some points and have myself slipped and fallen ironically while instructing my group to be careful on the sandy bits.
The Crowds
As previously mentioned, Horseshoe Bend is an extremely popular destination. Though there is lots of space at the viewpoint, there are LOTS of people. If you are looking to get out and see Horseshoe Bend without the interruption of others, it's best to do so early in the morning, though you should never expect to have the viewpoint to yourself. The gates open at sunrise and close at sunset.
The Fees
On our tour, the entry fees will be included in the cost of the tour. If you are planning on visiting on your own, you will have to fork over some money. The cost is $5 for those on a motorcycle and $10 for a car, truck, RV, or motorhome.
The Bathrooms
Unfortunately, the bathrooms at Horseshoe Bend are not great. There is no running water, which means there are only pit toilets available. They are one step above porta potties, as they do have actual buildings surrounding the toilets. This does mean, however, that there are no sinks to wash your hands, so bring some hand sanitizer or wipes!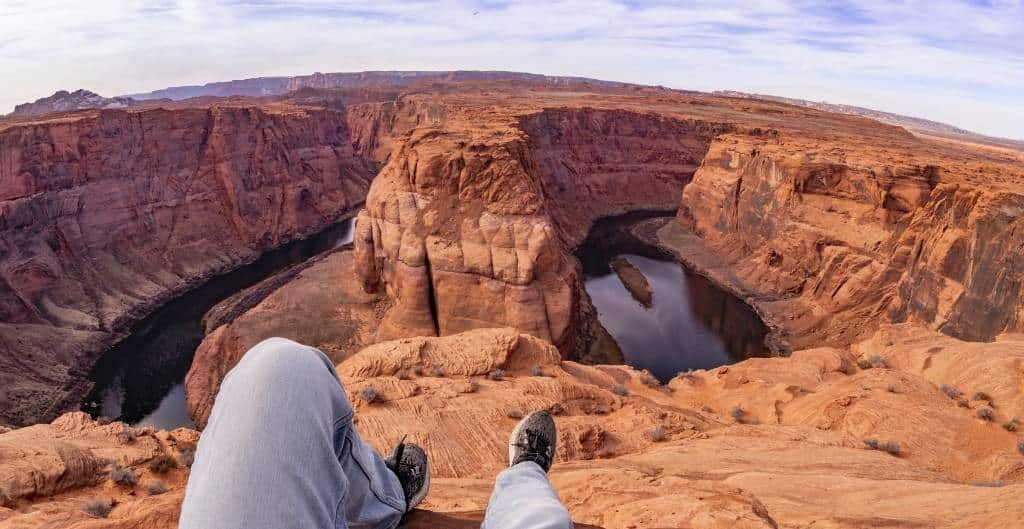 Best Places Near Horseshoe Bend
Horseshoe Bend isn't the only attraction in the area! You have Lake Powell, Glen Canyon Dam, and Antelope Canyon (or another slot canyon), all of which you'll see on our tours! These locations are all fairly close together and have tons of cool history, both recent and ancient. This area is certainly an awesome place to dedicate some time while visiting Northern Arizona.
Best Hiking Near Horseshoe Bend
If you are deciding between Horseshoe Bend and another hike, you should do Horseshoe Bend. It is truly beautiful, but it certainly isn't the only hike in the area. Another great short hike is the Hanging Gardens Hike, which is located near the dam and gives some insight into what Glen Canyon looked like before it was flooded by the dam. The Chains is another cool hike that will take you down to the lake and is located on the same road as Hanging Gardens. The ever-decreasing water level has made this hike longer and slightly more challenging, so don't expect to park your car and just hop into the water. It'll take a little bit of work to get there.
Why Choose a Guided Tour with Grand Canyon Adventures?
There are several reasons why booking a guided tour can be beneficial. Looking to learn more about the area? Our guides are very knowledgeable about its history and geology. Looking to take some of the stress of planning and driving out of vacation? We handle all the logistics and transportation. Looking to save money on renting a car and paying for gas? Our tours are all inclusive. We will handle everything for you! Once you join us in Flagstaff or Page, you don't have to worry about a thing. Our extremely well-rated guides will show you a fantastic time. We stop at Horseshoe Bend, Glen Canyon Dam, and take you to Antelope Canyon! During the long drive, you'll learn about the rich history of Northern Arizona and see impressive geological formations—all while sitting back and relaxing in our luxury vans. We provide lunch, drinks, snacks, and some of the best guides in the area!
Everything You Need for an Adventure
It's not every day that you are in Northern Arizona, so why not make the most of your time here? Checking out sights from Antelope Canyon to Horseshoe Bend to the Grand Canyon is a must, so make sure you have the proper planning and time to see these unforgettable locations that aren't found anywhere else in the world. If you are heading there on your own, make sure to account for driving time, gas, food, hiking, entry fees, and tickets to ensure your vacation remains just that. Give us a call and we are happy to give travel advice, or explore our guided tours where you won't have to worry about a thing.