If you're planning a drive from Phoenix to the Grand Canyon, you're about to embark on a road trip adventure that contains many noteworthy stops along the way. We've put together the definitive guide for a Phoenix to the Grand Canyon road trip. This breathtaking journey will take you through captivating landscapes, vibrant desert vistas, and iconic landmarks. We'll help you navigate the scenic routes, find the hidden gems, and highlight the must-visit stops along the way. Buckle up and get ready for an unforgettable journey through the heart of Arizona.
Pre-Trip Preparation
The best time to visit the Grand Canyon is during spring and fall, when it is neither too hot nor too cold. Temperatures during the winter season can drop dramatically and the area receives a fair amount of snowfall every winter. During the summer, it can get into the 90–100 degree Fahrenheit temperatures with blazing sun. Whenever you visit, make sure to pack wisely for the season, as the temperatures can differ so dramatically throughout the day! We recommend packing layers, so that you'll be prepared for both the cooler mornings and the warmer afternoons are can adjust accordingly. 
The nearest entrance to the Grand Canyon from both Phoenix and Flagstaff is the south entrance. It is roughly three and a half hours from Phoenix and about an hour and a half from Flagstaff. The nearest international airport is in Arizona's capital city of Phoenix. Flagstaff is one of the cities that is nearest to the Grand Canyon, where you will find plenty of adventures and things to do. 
In neighboring towns to the Grand Canyon, you'll never lack for choice in accommodations. In Flagstaff, there are over 70 hotels you can choose from at various price points! Our suggestion is to book well in advance for the spring and fall season should you choose to visit during that time. We also recommended you book any additional tours or activities you would like to go on, as they tend to fill up far in advance due to their popularity.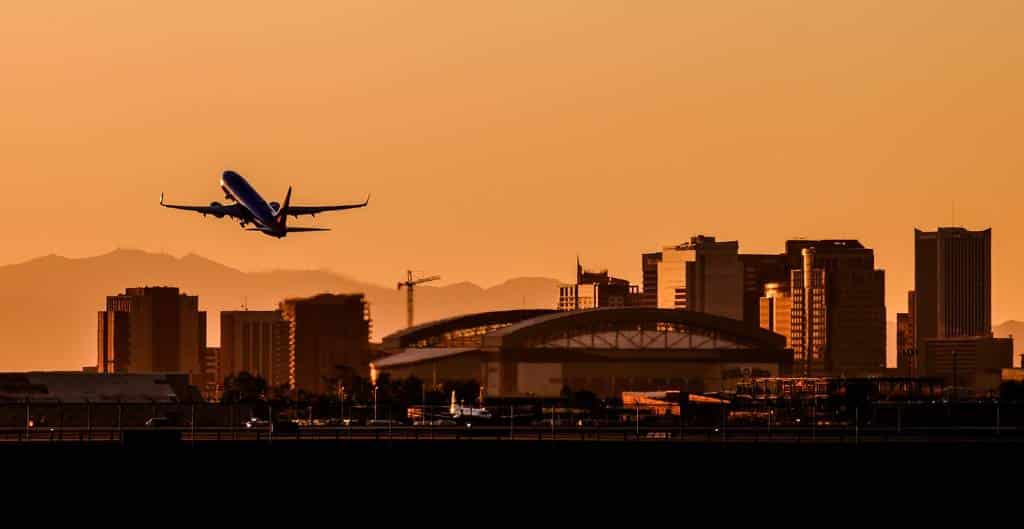 Exploring Phoenix
Phoenix, Arizona, has the nearest international airport to the Grand Canyon. This dynamic city also boasts an abundance of sights to see and activities to experience before you begin your journey to the Grand Canyon! Before setting off on your Grand Canyon road trip, immerse yourself in Phoenix's vibrant dining scene and check out its best sites. The following include just a couple of our top recommendations for Phoenix experiences before hitting the road.
1. Western Spirit: Scottsdale's Museum of the West:
It wouldn't be a true southwestern road trip if you didn't stop at a Western museum. Here you'll find all sorts of historical artifacts, arts, jewelry, and much more of the American Southwestern cultures on display. This is a great start to learning about the history of the American West and its variety of cultures.
If you would rather spend the day outdoors, this is the place to go. You'll find some short trails to stroll along to learn about the native desert plants and environments. It truly is a sight to see with the variety of plants present!
Must-See Stops Along the Way
Cottonwood & Jerome
In Cottonwood, you'll encounter some phenomenal vineyards and wineries, as well as some amazing kayaking on the Verde River. Dead Horse Ranch State Park is known for camping, hiking, and kayaking. In the neighboring town of Jerome, you'll get to learn about the history of a once-booming copper-mining town! You can visit the Jerome Historical Society Mine Museum while you are there to learn more about the town's rich history.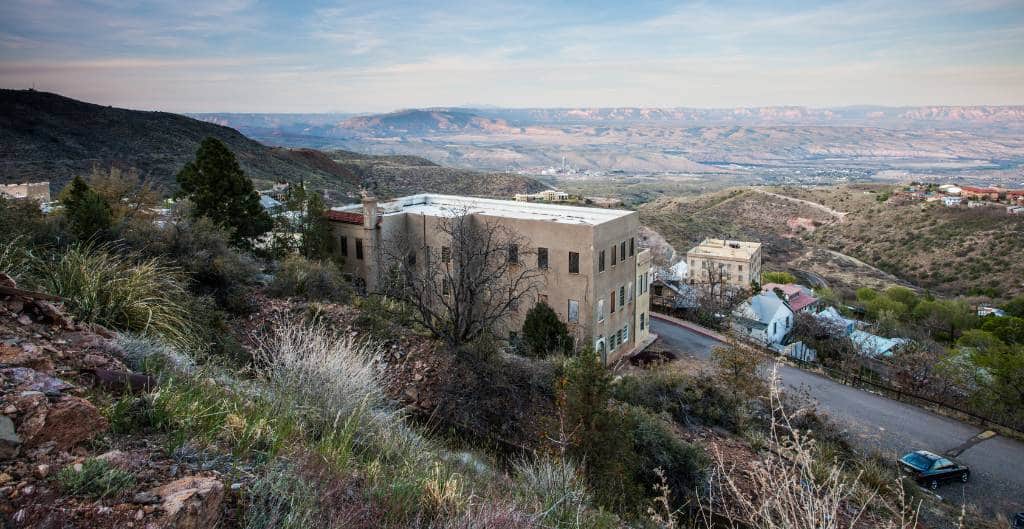 Prescott
Prescott is the home of the world's oldest rodeo, which takes place during the first week in July. Don't miss Whiskey Row, named for its historic saloons that originated in the Gold Rush era. You'll find authentic cowboy history and culture here unlike anywhere else. There are also two amazing museums to visit here—the Museum of Indigenous People and the Sharlot Hall Museum.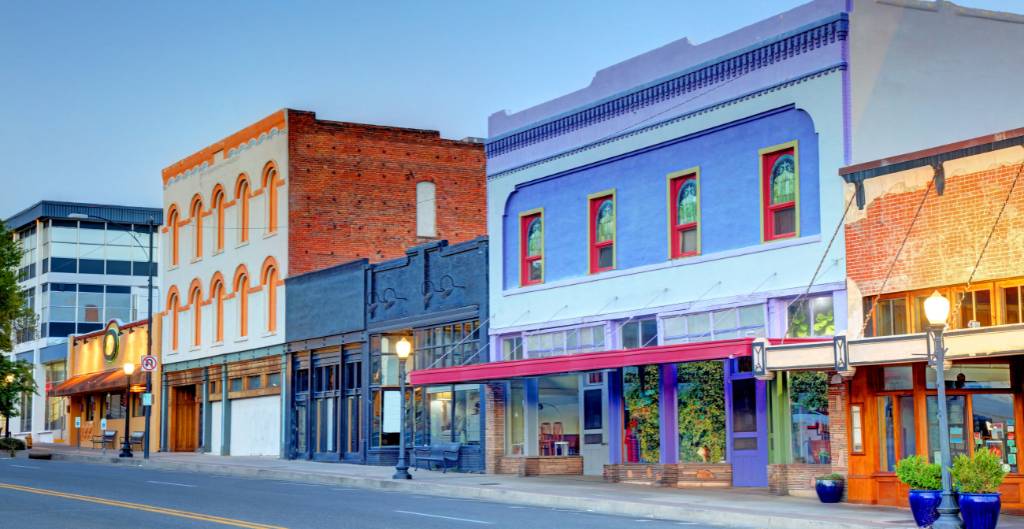 Sedona
Sedona's Red Rocks are world-renowned for their beauty. With a desert sunrise or sunset, the vibrant red rocks illuminate the landscape in a unique way that is hard to find anywhere else. Sedona is home to some amazing hiking trails, Oak Creek, and other scenic sites. At Grand Canyon Adventures, we offer an exclusive private tour of Sedona that includes a 15-minute helicopter ride and stops at some of the major viewpoints. Our professional guides and pilots enhance this tour experience. If you can only stop in Sedona for a short time, here are some notable places to see: 
Flagstaff
Flagstaff is your last stop before the Grand Canyon, where you will find some great accommodations! It has a rich history as an old logging town that is now a quaint and quiet college town. Flagstaff sits in one of the largest deciduous pine forests in the world, was the first international dark sky city, and is near the beautiful Humpreys Peak. There are some wonderful monuments and sights to see while in Flagstaff that can be seen during Grand Canyon Adventures' Flagstaff Monuments Day Tour, which is currently only offered as a private tour. 
If you come during the winter, you'll most commonly find Flagstaff under a blanket of snow. For those looking to go skiing or snowboarding, check out Flagstaff's local ski resort on Humpreys Peak, Snowbowl. If you come during the summer, you'll find perfect temperatures and endless amounts of hiking trails, kayaking, and outdoor events to fill your time.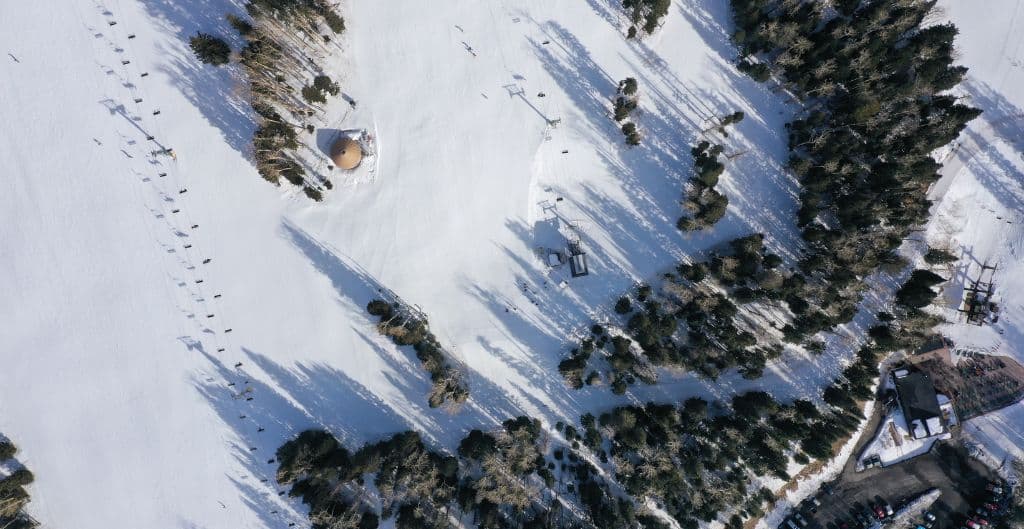 Arriving at Grand Canyon National Park
Finally, the main reason for your road trip adventure—Grand Canyon National Park! Totaling 277 miles long, 18 miles wide at its largest, and a mile deep, it is one of the Seven Natural Wonders of the World. There are four main entrances to get into the Grand Canyon National Park: the North, South, West, and East entrances. Each entrance provides a unique view of the Grand Canyon, and we can guarantee you won't see the same view twice while you are there! 
Park Entrances and Information:
North:

This entrance only receives about 1/10th of the total visitors for the Grand Canyon each year and it is only open to the public from mid-May to mid-October. 

South:

This entrance offers the most popular and common views of the Grand Canyon that you see, and it is an hour and a half drive from Flagstaff! This park entrance is open year round for sightseeing, and at the South Rim you will find over two dozen viewpoints where you can stop (the most out of any of the park entrances)! 

West:

The West entrance of the Grand Canyon is most notably famous for its Havasu Falls and The Glass Skywalk. Not many visitors come to this entrance, as it is one of the farthest away from any major city. This entrance also requires a separate fee from the regular Grand Canyon entrance fee since it is on Havasupai Tribal Land. 

East:

Like the South entrance, the East entrance is the other popular entry point to Grand Canyon National Park. It's also the closest to Desert View Watchtower—a great viewpoint with some amazing history!

Activities & Tours:
On the Water: 

One of most notable activities to do at the Grand Canyon is rafting the majestic Colorado River. This multi-day adventure requires visitors to either have expert river knowledge or go with a professional guide, as it has rapids unlike anywhere else in the world.

From the Air:

To see another breathtaking view of the Grand Canyon, take a

30-minute

helicopter tour over the Grand Canyon

. Grand Canyon Adventures partners with local helicopter tour companies to provide a one-of-a-kind experience for every guest.

Day Tours:

If you are looking for a comprehensive overview of the Grand Canyon, consider going with Grand Canyon Adventures on our

Grand Canyon Day Tour

.

This top-rated guided tour takes you to the best viewpoints and stops in the Grand Canyon. Our extremely knowledgeable guides curate an experience that involves both adventure and learning. And if you would rather adventure solo or with a group, we can always arrange a

Private Grand Canyon Day Tour

for you. 
Hiking in the Grand Canyon: 

South Kaibab to Ooh Aah Point:

A beautiful overlook point that is popular for hiking. It is a 1.8-mile out-and-back trail. 

Bright Angel: 

There are plenty of places to stop and check out the views. This trail does take you all the way down to the river and is a grueling hike if done in its entirety. It is 8 miles long one way. You can turn around at any point to return back to the top and the visitor's center. 

Our recommendation: 

Here at Grand Canyon Adventures, we take care of the trip preparation and planning for our

private hiking tours

. Your guide is extremely knowledgeable and WFR (Wilderness First Responder) certified. You can trust that your safety is in the best hands. 

Important Information:

As always, bring more than enough water for your hikes, sunscreen, and wear proper hiking shoes, clothes, and gear. Be sure to research your trails extensively before embarking on your adventure! 
Lookout Points: 

Some of our favorite lookout points includes: Lipan Point, Mather Point, Yavapai Point, Grandview Point, Moran Point, and plenty more viewpoints in Grand Canyon Village. You won't find the same view twice at any of these different viewpoints! 

Our recommendation:

We suggest taking the Grand Canyon Day Tour with Grand Canyon Adventures. You'll get to see the majority of these viewpoints, and you'll learn more information about the Canyon from our fantastic guides than you would get at museums or from pamphlets.
Nearby Attractions
If your itinerary isn't already full by now, here are some more adventures to add on to your road trip of a lifetime! Other world-renowned sights to see include Antelope Canyon and Horseshoe Bend in Northern Arizona. Antelope Canyon is the site of the world's most most expensive photograph sold at $6.5 million (as of 2014)! This slot canyon is located on Navajo nation land and has limited availability for tours every day. Horseshoe Bend is located on the east side of the Grand Canyon in Page, AZ. It gets its name from its iconic horseshoe shape that was created by the Colorado River. If you're looking to visit these sites, we offer a day tour that takes you to both Antelope Canyon and Horseshoe Bend. Come with us, and we'll show you the best sights and cut the lines! 
If you feel like you have no idea how to see all these amazing sights across Northern Arizona, we also offer our Grand Canyon Excursion 4-Day Tour, which takes you to all of the best stops. We take care of all of the trip preparation, so all you have to do is meet us in Flagstaff to begin your adventure. This 4-day tour sees the Grand Canyon, Monument Valley, Antelope Canyon, Horseshoe Bend, Sedona, and more!
Road Trip Tips & Safety
Driving Tips:

There is a highway that takes you directly from Phoenix to Flagstaff, which is I-17 North. Once you make it into Flagstaff, you can take AZ-664 North to the South Entrance of the Grand Canyon.

Most of the stops that have been mentioned are on the way from Phoenix to Flagstaff via I-17 North and are extremely accessible.

Safety Precautions:

During the winter, the roads surrounding and on the way to the Grand Canyon can be extremely icy, so drive slowly and cautiously during the winter season.

The Grand Canyon and surrounding areas are filled with a wide variety of wildlife. Be aware when driving and look out for animals crossing the road.

Make sure to drink plenty of water throughout your time at the Grand Canyon. The elevation and heat affect a lot of people and are some of the main reasons visitors seek medical attention. 

Be aware of wildlife and do not feed or provoke them!
Tour the Grand Canyon
The Grand Canyon is surrounded by world renowned beauty, and a road trip from Phoenix is a great way to experience it. From statuesque saguaros painting the desert landscape and the red rocks of Sedona, to the breathtaking views of the San Francisco mountains in Flagstaff, there are many places to visit along your drive to the Grand Canyon. Once you arrive, take a Grand Canyon day tour to experience this amazing landscape with expert guides, which is truly one of the best ways to see the Grand Canyon. If you're tired from your journey, you'll love getting to sit back, relax, and enjoy the sights while we take care of the transportation and planning. Contact Grand Canyon Adventures today to learn more and book your tour!