Researching Antelope Canyon for an upcoming trip? If so, you probably noticed there are actually two canyons. Both canyons are located in Page, Arizona, both offer spectacular views of twisting, swirling canyon walls, and both are comparatively priced. Protected by the Navajo Parks and Recreation, everyone is required to enter with a guide, such as on our Antelope Canyon Tour. So, which one should you visit?
Differences Between Upper and Lower Antelope Canyon
Both Upper and Lower Antelope Canyon offer very similar experiences once you get inside. The canyons are the same age, they were created the same way, they both require a Navajo Guide, and they both offer very similar views and photo ops. You'll be glad you made the trip regardless of which one you choose to tour.
While the two canyons are quite similar, there are a few differences between how they are run and what to expect from your tour.
Upper Antelope Canyon
The canyons themselves are very similar. However, the entrance to each canyon is different, as are prices and crowds.
The Upper Antelope Canyon tour begins in the tour operator's parking lot where you will hop aboard a 4×4 truck. You'll be driven with your tour group to the entrance of Upper Antelope Canyon and meet your Navajo guide. Once the group is ready, you'll enter the canyon itself and begin the tour.
Upper Antelope Canyon is most famous for its "beam of light" phenomenon. These beams slice through the roof of the canyon most reliably around noon on clear days. In fact, the most expensive photo in the world was taken in Upper Antelope Canyon, and it sold for $6.5 million. Your Navajo guide will walk you through the corridors explaining the origins of the canyon and help you take stunning photographs. Cameras are permitted in the canyon, but not large photography equipment like tripods. The tour lasts about one hour.
Lower Antelope Canyon
Lower Antelope Canyon works a bit differently. You and your group will walk about a quarter of a mile from the parking lot to a staircase that descends into the canyon. A short series of ladders and staircases must be used to enter. Any reasonably able-bodied person is capable of making their way down. Thousands do every week!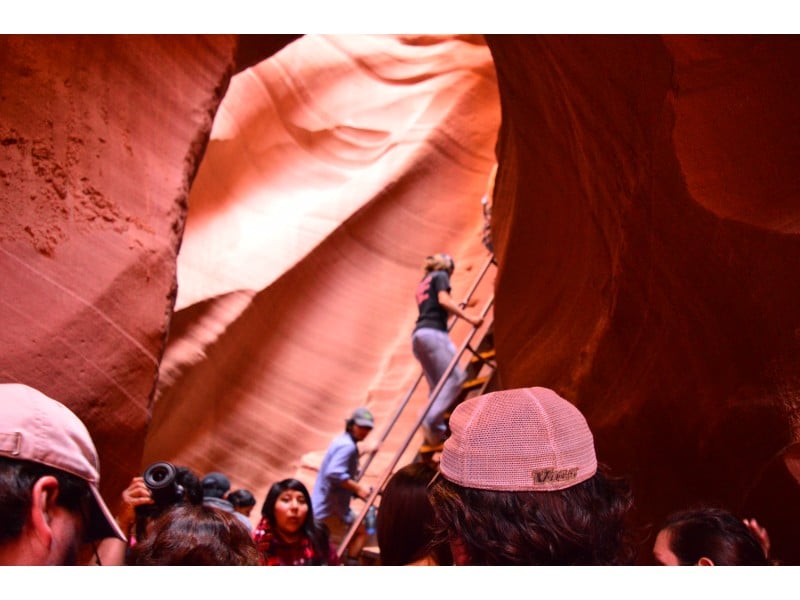 Once you reach the floor of the canyon, your tour begins. Your Navajo guide will walk you through the canyon, offering information and help with taking photos.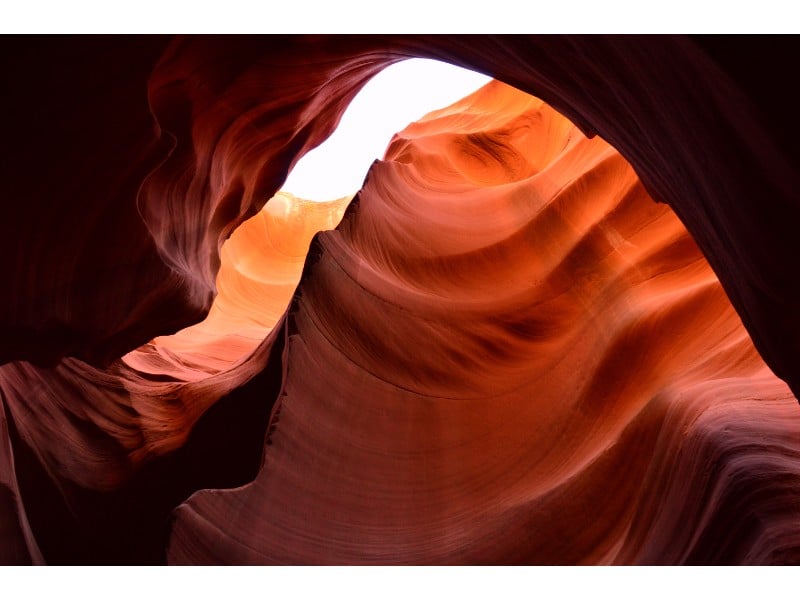 Which Canyon Does Grand Canyon Adventures Recommend?
Both canyons are beautiful, however, Grand Canyon Adventures almost always opts for Lower Antelope Canyon. Because it is a "one-way" canyon, you won't get any return traffic (which can make it harder to see and get great photos).
Tours may go to either one depending on the time of year and cost. We go to Lower Antelope Canyon more often because it costs slightly less and usually has smaller crowds. As a result, the tour can be a bit more enjoyable, as there are fewer people to get in the way of your new Facebook cover photo. Upper Antelope Canyon is more internationally famous and therefore busier. However, Upper is better equipped to handle larger crowds than Lower during peak season in mid to late summer. Upper Antelope Canyon is also easier to enter, so tour groups with elderly or physically-limited travelers go to Upper.
Which Canyon is Better?
While we can provide a number of tips for traveling to Antelope Canyon, you'll be happy with either choice. They are sister canyons, and if you see one you won't miss out on the other. If you or a group member would be more comfortable not climbing down a ladder, then go to Upper.
Summary
Both Upper and Lower Antelope Canyon
Guide required
No bathroom available during the tour
Located in Page, Arizona
Upper Antelope Canyon
Upper Antelope can be more crowded
More accessible to elderly and physically limited travelers
Higher chance of seeing the "beam of light"
Lower Antelope Canyon
Less crowded; easier to take photos
Shorter wait time most of the year
Accessible to reasonably fit tourists (can climb down a ladder)